As the nation's pioneer of non concrete sidewalks, we are the leader of superior, advanced walking pavements. All our products provide safety and comfort, cost savings, and environmental benefits. Whatever your pavement need we have the right product for you.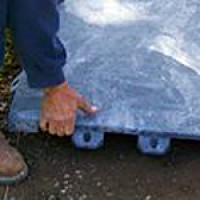 Our advanced paving material, with superior appearance, ease of installation, and design elegance
Designed for all commercial and municipal applications. Maximum cost savings and environmental benefit
100% recycled plastic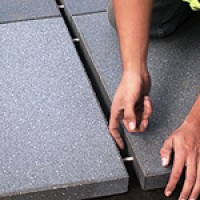 The original non concrete sidewalk and the proven solution for maintaining mature trees with invasive roots
Ideal for tree preservation and tree root management, and recreation walkways
100% recycled tire rubber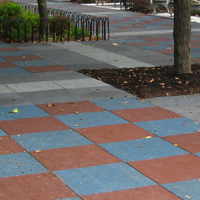 The same durability as Rubbersidewalks™ in a thinner version, installed atop existing hardscape or flooring
Recommended for safety solutions and low cost property renovation
100% recycled tire rubber
All TERRECON, Inc. products are 100% recycled and recyclable, unbreakable, modular, ADA compliant, and approximately 1/8th the weight of concrete.